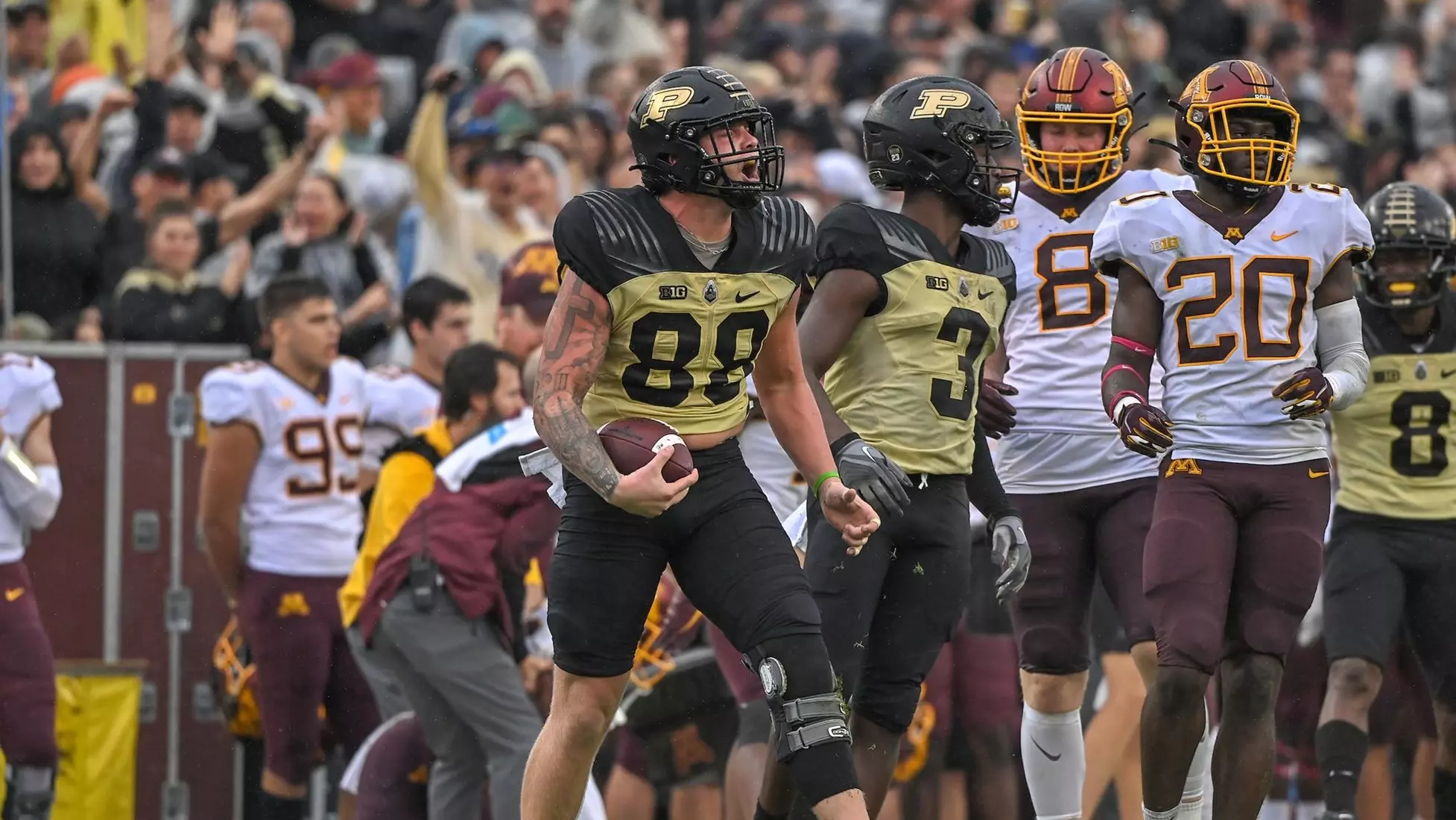 Player Data
| | |
| --- | --- |
| Name, Jersey # | Garrett Miller #88 |
| School (Code) | Purdue University (INPU) |
| DOB, Class Yr | 12/06/2000, rSr |
| Height, Weight | 6043, 249 lbs |
| 40 Yd Dash | 4.75 |
| Position/Depth | TE/1st |
| Season Viewed (yr) | 2023 |
| Games Watched | MIUN, OHST, MNUN, IAUN |
| Scout Name / Date | Ian McNice, 11/14/2023 |
Per Year Stats (Most Recent First)
| | |
| --- | --- |
| 2023 | 9 GP, 9 GS, 25 REC, 220 yds, 8.8 Y/R, 2 TD |
| 2021 | 11 GP, 4 GS, 19 REC, 165 yds, 8.7 Y/R, 5 TKL |
| 2020 | 6 GP, 1 GS, 2 REC, 48 yds, 24.0 Y/R, 1 TD, started on kick return |
| 2019 | 4 GP, 1 TKL, 100% snaps taken on special teams |
Player Summary:
Redshirt Senior from Round Rock, Texas. A consensus 3 star recruit who received 1st team All-District honors with 584 yds and 5 TD's in his senior season. Solid height, adequate weight, with above-average AA. He plays with excellent COD, solid foot speed, adequate acceleration, and balance. Solid footwork in his release from 2 and 3 pt stances, efficiently gets north and south with little wasted movement. Solid separation quickness, he uses good COD to win at the top of his routes by consistently selling himself vertically before planting his foot and breaking. He is above-average sinking his hips when running hooks, pivots, and outs proving he can create separation vs ILB's who are adequate in man coverage. He displayed solid mental processing vs zone coverage by sitting in soft spots underneath, giving his QB an option in the quick game. Solid sealing off the backside of IZ, quick effective footwork gets his shoulder turned prior to striking his matchup using an anchor technique to absorb power. Good accuracy when asked to lead block pulling from the backside in IZ, he takes a gather step when reaching his targets vicinity, using his momentum to bring a good accurate strike with solid leverage. Good at getting to the 2nd level quickly in zone scheme runs, he is solid giving the DL an effective punch before reaching the LB. Good when asked to pull on power runs, he understands how to use his momentum to create force at the POA with solid leverage. Solid in pass pro, he is good keeping his shoulders square and has an effective initial strike, below average hand dexterity makes it difficult for him to maintain the block vs stronger athletes. Marginal chip blocks, he needs to get more contact so he can impact the defender before slipping out into space. Marginal on the frontside of outside runs, he struggles to create push at the POA vs all DL and it can lead to negative plays for the unit.
Scheme Fit:
Blocking TE in 12 personnel gap run scheme
Power Statement:
Miller is an above-average run blocker with very good play strength, he has shown he can move large bodies when he has the momentum and space to do so. He is also capable in the passing game with a solid route tree as a TE, if he can develop chemistry and timing with the QB he could be a factor. He could improve on kicking 2nd level defenders out by locating the inside shoulder of the defender at the POA.