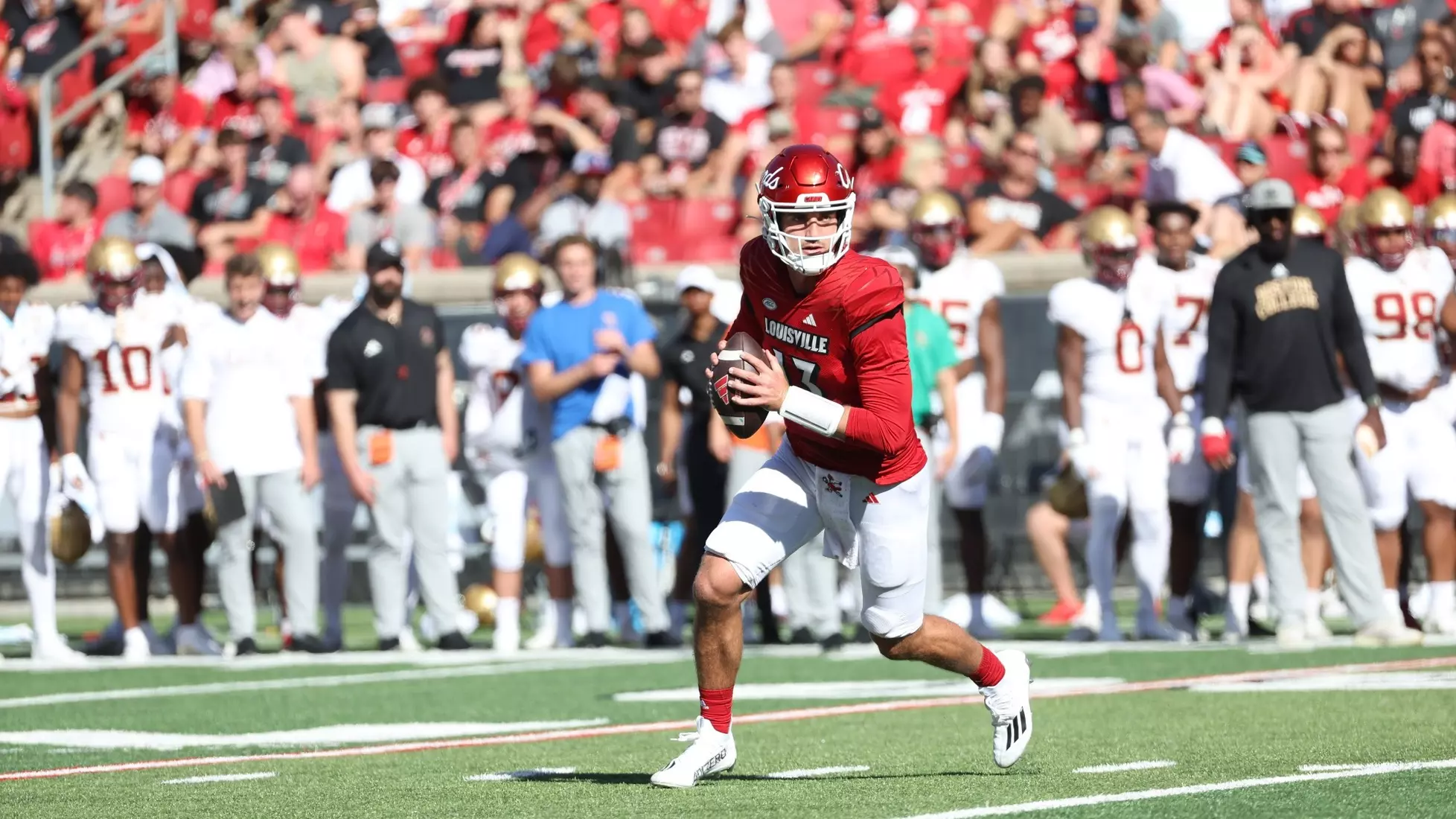 Player Data
| | |
| --- | --- |
| Name, Jersey # | Jack Plummer, #13 |
| School (Code) | University of Louisville (KYLO) |
| DOB, Class Yr | 10/21/1999, rSr |
| Height, Weight | 6041, 214 lbs |
| 40 Yd Dash | 4.95 |
| Arms, Hands | 32 ⅜", 09 ¾" |
| Position/Depth | QB/1st |
| Season Viewed (yr) | 2022, 2023 |
| Games Watched | WAUN (22'), PAPT (23'), NCST (23'), INUN (23') |
| Scout Name / Date | Ian McNice, 10/20/2023 |
Per Year Stats (Most Recent First)
| | |
| --- | --- |
| 2023 | 7 GP, 7 GS, 63.5 % CMP, 1,901 yds, 13 TD, 8 INT, 9.1 Y/A |
| 2022 | 12 GP, 12 GS, 62.5 % CMP, 3,119 yds, 21 TD, 9 INT, 6.9 Y/A |
| 2021 | 9 GP, 4 GS, 68.5 % CMP, 864 yds, 7 TD, 0 INT, 6.8 Y/A |
| 2020 | 3 GP, 3 GS, 71.0 % CMP, 938 yds, 8 TD, 2 INT, 7.6 Y/A |
| 2019 | 9 GP, 6 GS, 59.8 % CMP, 1,603 yds, 11 TD, 8 INT, 6.7 Y/A |
Player Summary:
Redshirt Senior from Gilbert, Arizona. A 4-star pocket passer (ESPN) out of HS, he spent his first 4 seasons at Purdue and redshirted in 2018. He then transferred to Cal prior to 2022, earning a start in each game before finding a home with the Louisville Cardinals. Good height, below-average weight, with solid athleticism. He displays good lateral quickness, solid acceleration, COD, and adequate foot speed. Solid keying unblocked edge in RPO game, he has a quick release once pulling the ball vs crashing DE's and delivers the ball with solid accuracy. Fair arm strength, he does not give the defense an advantage as he has shown a solid ability to attack many different areas of the field from in and outside the pocket. Excels working anticipation routes, he has good timing with his receivers releasing the ball prior to their break. He has good accuracy on patterns outside the numbers, he puts the ball in a place where the WR can easily get upfield for YAC and away from an undercutting DB. Adequate accuracy working hook routes, he tends to miss high on hook/hitch's 7 yards or less. Solid working through his progressions vs 4-5 man pressures, he keys the body position of DB's in the area of his 1st two reads efficiently before getting to his checkdown. Adequate pocket presence, he is effective in sliding both ways within the pocket to extend plays. Below-average decision maker when working off-schedule, he has a tendency to play hero ball and attempt to make the big play after evading rushers, often throwing across his body or not setting his feet prior to taking a deep shot. Marginal vs 6-7 man blitzes, he is below-average sliding protections pre-snap and locating hot routes, a lack of poise under pressure leads to questionable decisions and turnover-worthy plays.    
Scheme Fit:
Pro Style working PA from under center.
Power Statement:
Plummer has solid arm strength and accuracy, he can work short/intermediate areas of the field with his eyes and moves well within the pocket. Needs to improve his overall poise in the pocket vs pressure looks and not try to be the hero when working off-schedule to have an opportunity to play at the next level.