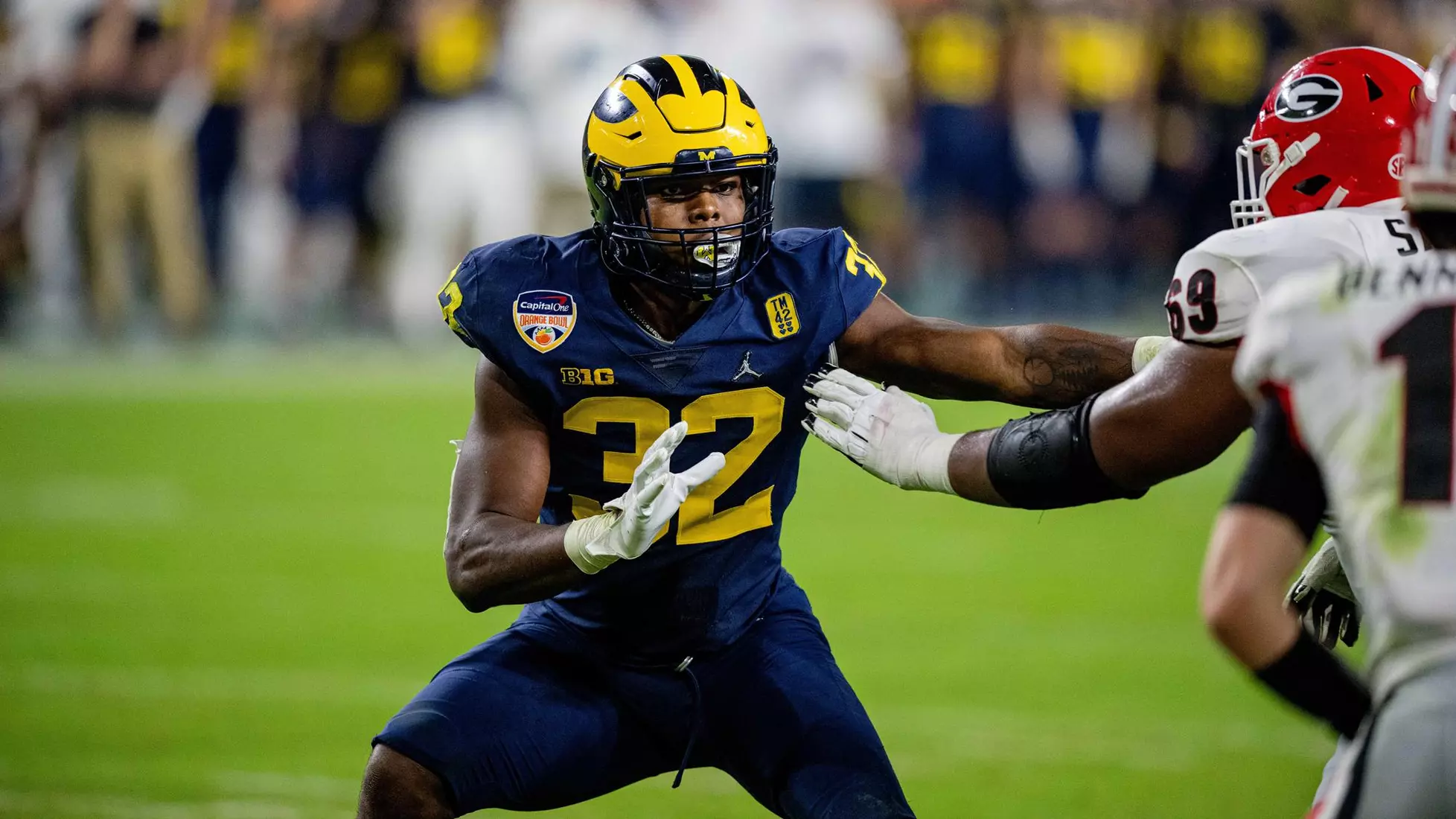 Player Data
| | |
| --- | --- |
| Name, Jersey # | Jaylen Harrell, #32 |
| School (Code) | MIUN |
| DOB/Class Yr | 05-01-2002, Sr2024 |
| Height, Weight | 6035, 242 |
| 40 Yd Dash | 4.64 est. |
| Position/Depth | Edge/4-3 End |
| Honors/Captainship | Two-Time Academic All-Big Ten honoree, All-Big Ten Selection (honorable mention, media) |
| Season Viewed (yr) | 2023 |
| Games Watched | 09/09/2023 UNLV @ Michigan10/14/2023 Indiana @ Michigan09/16/2023 Bowling Green @ Michigan |
| Scout Name / Date | Brinson Bagley, 10/24/2023 |
Per Year Stats (Most Recent First)
| | |
| --- | --- |
| 2023 | Solo 6, Ast. 11, Sack 3.5, FF 2 |
| 2022 | Solo 19, Ast. 11, Sack 3.5, PD 2 |
| 2021 | Solo 5, Ast. 10 |
| 2020 | Ast. 2 |
Player Summary:
Jaylen boasts a lengthy, cut frame, with stout shoulders and a long lower build with a solid base. He splits his time from 9 gap to 9 gap on the first and second levels of defense. Jaylen depends heavily on his AA and is a quick off-the-snap player with a good twitch. His agility aids his lateral shuffling in zone run pursuits as he chases down the ball carrier with his wide effective radius. He also possesses solid read and react ability, and his fast COD allows him to quickly adjust to the developing play, often outmaneuvering the lineman as he closes in to tackle. When engaged, he plays with solid leverage in zone coverage, his acceleration and good play speed quickly place him in his zone area allowing the removal of 3rd, and even 2nd reads. He easily moves in space and swiftly rallies. In pass rush, he shows explosiveness from outside the 5 gaps, fueling an arc to the QB, and spin to cut back with very good balance and torque. He is an intelligent player who plays with urgency, picks through an array of moves when engaging, and often makes signals for the defense pre-snap. He lacks effectiveness with adequate UOH with shedding, opting to run around rather than through. In pass plays, once a lineman grabs him, he struggles to disengage and is halted. His bull rushes generate little movement and are inconsequential as he lacks functional strength. He has an adequate anchor rendered ineffective against double teams and power runs, losing ground. He often finds himself stalemated against TE's who are smaller in stature, and his urgent play is not coupled with any brutality or aggression. He leans on finesse traits when physicality is called for and struggles to tackle in space. Because of the coverage scheme, he has had limited exposure to man coverage, which shows when he is around the ball in the air, often rendered ineffective allowing the incompletion.
Scheme Fit:
3-4 Edge peppering into coverage zone scheme for Edge rushers
Power Statement:
Jaylen is a talented player with explosiveness, and edge abilities that will grow with his frame and functional strength. While he will struggle in facets of power runs and bull rushes his finesse game backed by his twitch and witty tactics will place him in the mix for pass rush situations, and rotational front-line play at the next level.