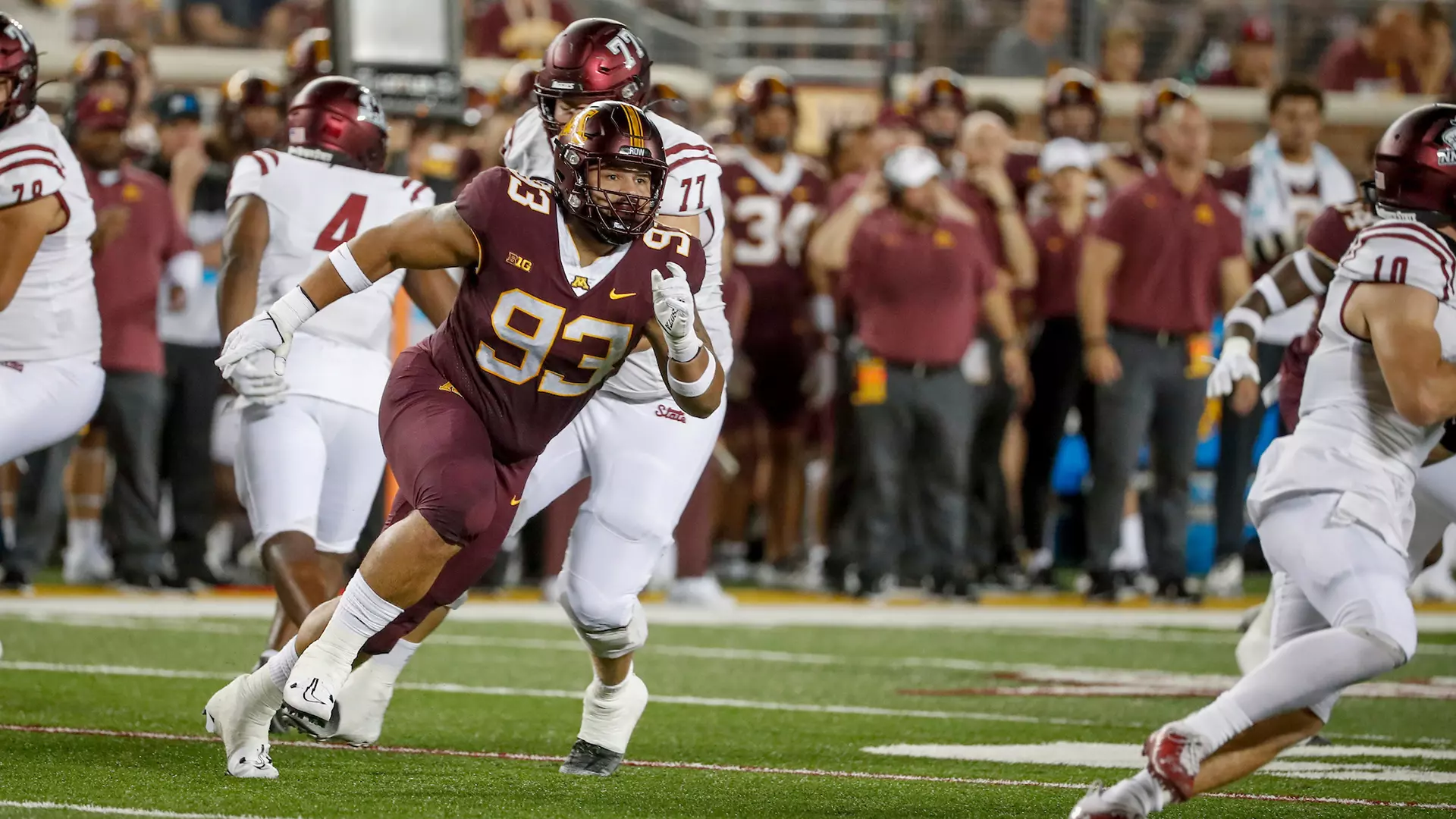 Player Data
| | |
| --- | --- |
| Name, Jersey # | Kyler Baugh # 93 |
| School (Code) | University of Minnesota (MNUN) |
| Class Yr | 5th year (rSenior) |
| Height, Weight | 6020, 305e |
| 40 Yd Dash | 5.14e |
| Position/Depth | DT/Starter |
| Honors/Captainship | All-Big Ten Honorable Mention (2022) |
| Season Viewed (yr) | 2023 |
| Games Watched | North Carolina, Purdue, Iowa |
| Scout Name / Date | Paul "PJ" Hardaway, 11/14/2023 |
Per Year Stats (Most Recent First)
| | |
| --- | --- |
| 2023 | 10 GP- 13 Solo, 23 Asst, 36 Tot, 1.5 TFL, 1 Sacks, 1 PD |
| 2022 | 13 GP- 13 Solo, 20 Asst, 33 Tot, 5.5 TFL, 3 Sacks, 2 PD, 1 FF, 1 FR |
| 2021 | 13 GP- 27 Solo, 16 Asst, 43 Tot, 8 TFL, 4 Sacks, 1 PD |
| 2020 | 4 GP- 1 Solo, 10 Asst, 11 Tot, 0.5 TFL |
| 2019 | 11 GP- 16 Solo, 25 Asst, 41 Tot, 6 TFL, 1.5 Sacks, 4 PD |
Player Summary:
Transfer from Houston Baptist, 5-year letterman, 4-year starter who has played in 49 career games and has 41 starts under his belt. Has a big, thick, athletic build of a body. A gap disruptor who moves well up field, has good use of hands at point of attack, does not allow the offensive lineman to get good hand placement on the inner body. Gets good push up field, displays good ability at disengaging blocks, runs downplay to make tackles in goal-line situations. Does a good job constricting run lanes forcing ball carriers to bounce to outside to fellow defensive lineman and linebackers causing traffic in the interior of defense. Has a relentless motor, gets off block, runs downplay with violence to make tackles on ball carriers. Has good play strength, takes on combo blocks, allows interior defensive lineman and linebackers to engage and make play in the pocket. Does not keep eyes in the backfield, overruns plays when engaged at LOS. Does not have good COD when running downplay, unable to slow down and sink hips to gain better balance to stay square vs OL. Does not disengage combo tackles at LOS, gets washed out of position resulting in losing leverage and over pursues play.
Scheme Fit:
4-3/3-4 defense, rotating from 0, 1, 2i tech. 
Power Statement:
An athletic defensive tackle who can create space for LBs to constrict run lanes. Attracts double team due to good ability to influence run gaps.