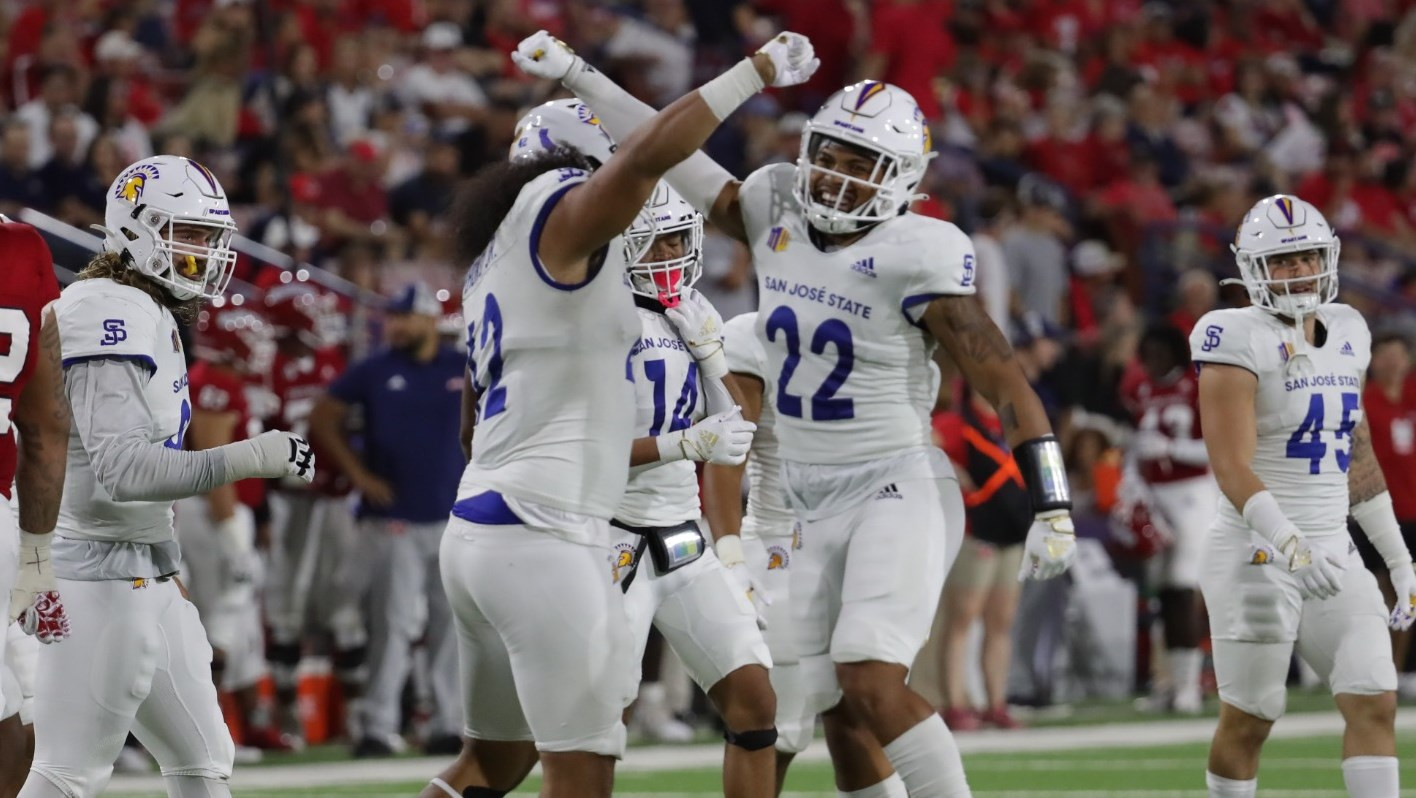 Player Data
Name, Jersey #
Tre Jenkins, #22
School (Code)
San Jose State University (CASJ)
DOB, Class Yr
5/19/2000, rSr
Height, Weight
5112, 216
40 Yd Dash
4.57 est.
Arm, Hand
3118, 0878
Position/Depth
SS/DS
Honors
NFF Hampshire Honor Society
All-Mountain West Honorable Mention Selection
Campbell Trophy Semifinalist
Mountain West All-Academic Team Honoree
All-Mountain Est Honorable Mention Selection
Dean's Scholar Award
Mountain West Scholar-Athlete
Arthur Ashe, Jr. Sports Scholar Award recipient
All Mountain West Second-Team Selection
CoSIDA Academic All-District honoree
Season Viewed (yr)
2023
Games Watched
08/26/2023 San Jose St. @ USC10/17/2023 San Jose St. @ Boise State09/22/2023 Air Force @ San Jose St.
Scout Name / Date
Brinson Bagley, 10/20/2023
Per Year Stats (Most Recent First)
| | |
| --- | --- |
| 2023 (7 Games) | Solo 26, Ast. 15, PD 2, INT 1 |
| 2022 | Solo 43, Ast. 17, PD 5, INT 2, Sack 2 |
| 2021 | Solo 49, Ast. 23, PD 3 |
| 2020 | Solo 29, Ast. 12, PD 2, INT 2, Sack 1, FF 1 |
| 2019 | Solo 6, Ast. 1 |
Player Summary:
rSr Tre posts a solid cut frame with an average size for his position. He plays across the 3rd level from slot to slot, and lines up at the front of the 2nd level, all the way back to deep safety. He is a vicious competitor and plays with endless aggression. He is very assertive on tackle pursuit using good play speed tracking sideline to sideline like a missile. A tone-setter, he will make big hits that get the team riled up and is a good tackler compiling solo takedowns. His good read and react ability allows him to anticipate running plays, sifting through linemen while bullying WR's and smaller tight ends trying to block him. He has sufficient COD, aggressive hands, and fast downhill and lateral movement. Against the pass, he depends on his instincts, aiming for cutoff positions and anticipating passes to the receiver in zone coverage. His sufficient AA makes him a threat anywhere in front of him on the field keeping his eyes on the back field. Tre is a playmaker who finds a way to step up in big games against greater competition. A major weakness is man coverage. His stiff hips and adequate agility leave him at a disadvantage on double moves and fluid breaks. He lacks the speed to keep up with deep receivers, and struggles with intermediate routes, showing vulnerability against crossers, and is a candidate to get stacked on any play as his attention is overwhelmingly aimed at the QB. He cannot play tight man as his stiffer body will struggle to keep pace. In off coverage, his dedication to the QB often leaves him tailing in post, or corner routes. His effectiveness is highly attached to how he is schemed. 
Scheme Fit:
SS, and heavy run responsibilities in any scheme
Power Statement:
Tre is a tone-setting safety who has the intensity and physicality to emerge early in his career as a fan favorite. He has a strong mentality, and drive to compete and assert dominance. He will need some scheme assistance with coverage, as he is best deep in the 2nd level and is able to read and react playing instinctually. Tre will quickly find his way on an NFL roster, through special teams with his style of play.